INA Hanger system – Automated & smart, reducing labour costs and time
22/01/2022
adminmp
INA Hanger system is an overhead storage, transport, and sortation system for fast and easy storage, retrieval, sortation, and consolidation of customer orders. Its dedication to help customers to achieve high efficiency production and management is well-known in the garment manufacturing industry. Let's learn more about the intelligent and automation INA Hanger system through the article below.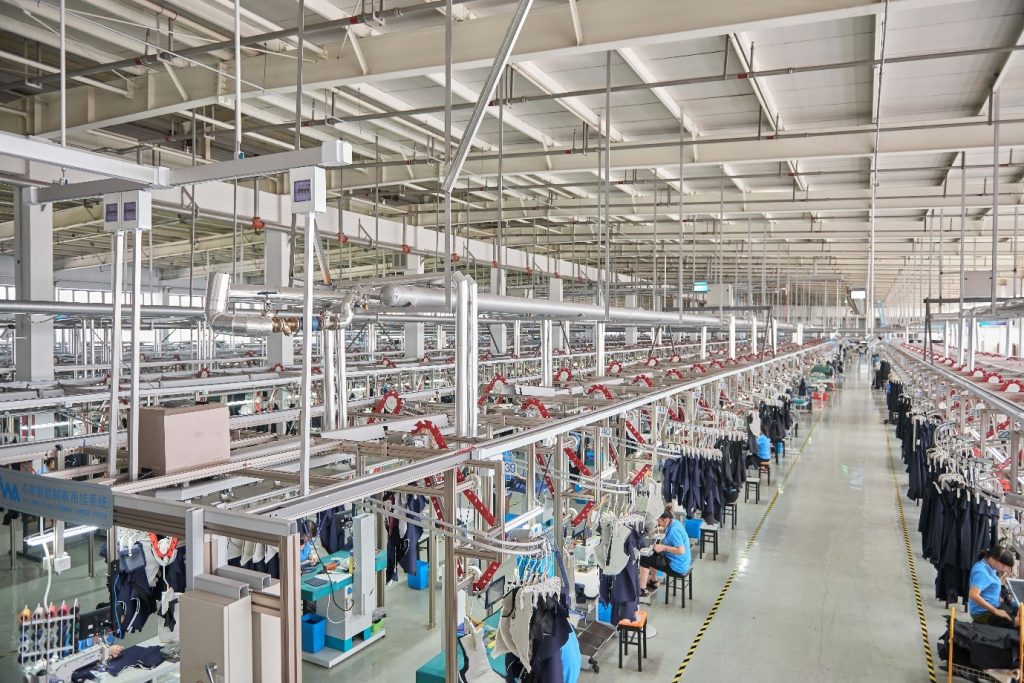 Outstanding feature of INA Hanger System
INA Hanger System can display work efficiency of each operator during production, in real-time. This enables managers to check the status quo of current production and performance reports of operators.
The system can record data such as defective items and the rate of repair and repair completion, so that it allows the management to conduct seamless adjustment and greatly reduces lag time of communicating instructions to increase production efficiency.
It has an exclusive jeans/denim processing analyser which could realize a flow of 85% cut-pieces into the hanger system. Through system automation, it can produce classification by colour or size. It also tracks and calculates employee's wages in real-time.
With the feature of classification by colour or size, it is possible to produce multiple designs, colours and sizes at the same time and on the same production line. This resolves the issue of low quantity orders as the feature is versatile to different sewing techniques and specifications.
It is equipped with remote access features that allow the management to view current and archived data of the production, in real-time, even if they are not at the production plant.
Ina hanger system has LED screens to provide production data at every moment. It can also be viewed via remote access for better management and monitoring of the plant.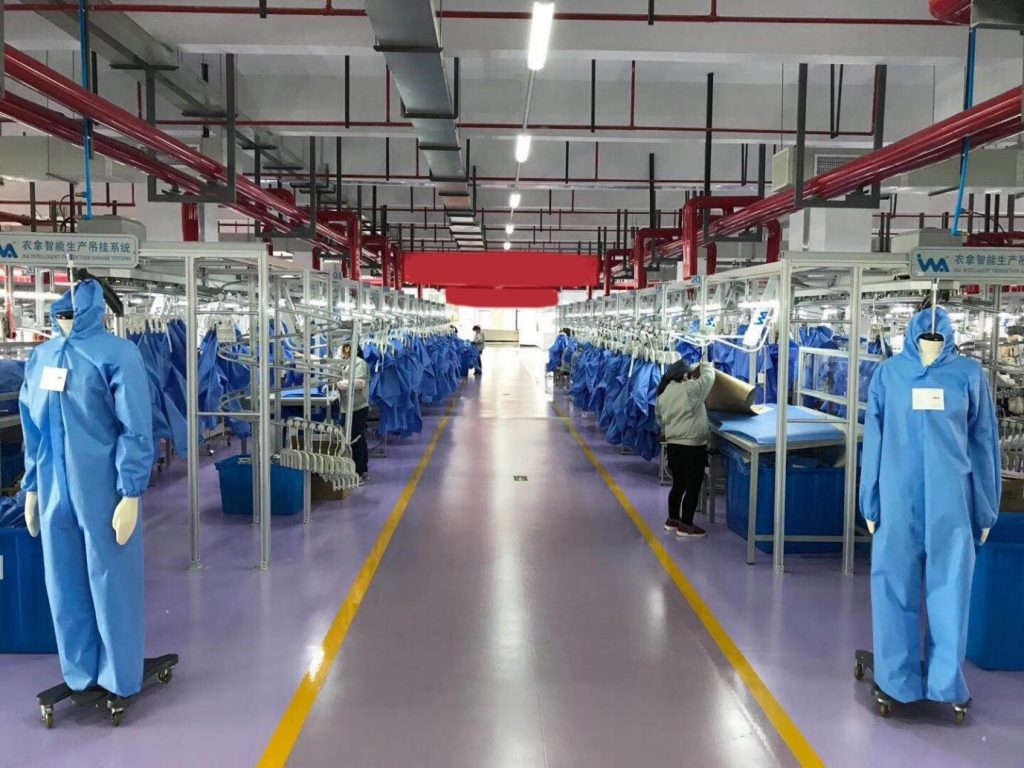 How the INA Hanger System works
Worker loads the pieces in a hanger from the loading station
The hanger routes to the next station
Product is put together at every stage at each subsequent sewing station
Product gets checked at the quality & control station (in line)
Product continues to be pieced together at the next subsequent stations
Final product gets checked and approved
Approved product lands at the unloading station
Empty hanger returns to the loading station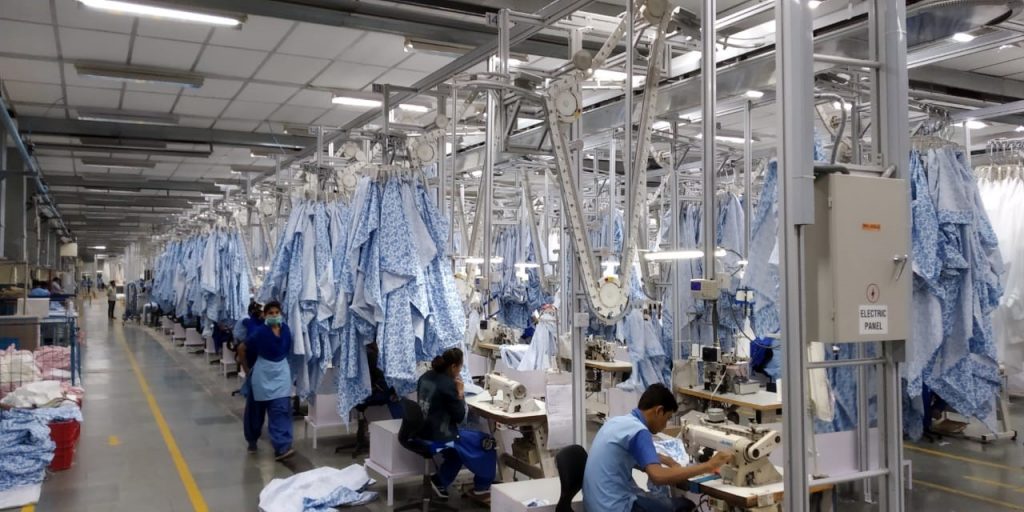 Benefits when using INA Intelligent Hanger System
Automated transportation of assembly parts significantly reducing labour costs and time
Drastic reduction in throughput time by up to 95% due to the elimination of transportation, bundle and handling time as each assembly part is automatically sent to the next operator
Reduced work-in-progress results in uninterrupted workflow
Huge reduction in excessive work
Reduces sewing time by 50% and above
Lower work-in-progress means little or no spending on inventory in advance
Clean, neat and organised work production reduces the need for cleaning and ironing
Improved workers' welfare and productivity through a consistent and smooth workflow
Very short delivery and response time
Accurate quality control and tracking at every stage of the productionReal-time tracking and record of each worker's performance and productivity easily meets buyer's compliance requirements
Effective resource distribution based on worker's performance accurately tabulated over time
Workers can log-off and shift workers log-in easily since production is calculated automatically
Easily handles multiple designs, small and huge orders
Hoshima is a genuine Ina Hanger system supplier in Vietnam, India, Taiwan, Singapore…. We guarantee the product works well, suitable for your business.
Beside that, Hoshima International is the exclusive distributor of automatic machines for the garment industry including: Fabric Inspection System Shelton Vision, Color Inspection Machine, C- tex Fabric Inspection Machine, Relax Machine, Automated Fabric Loader, Automatic Cutter, Automatic Labeling Machine, Automatic Spreader, Intelligent Hanger System, Waist Card Machine, Stitching and pressure line 2in1, Intelligent Mouth Rip Machine, Intelligent Core End Bartack, Intelligent Cap Rope Units, Automatic wash label seaming, Intelligent String Insert Unit, Automatic Template Sewing Machine, Automatic High-Speed Elastic Ring Robot, Automatic Placket Sewing Machine, Tubular Bottom Hemming Integrated Sewing Machine, Electronic Pattern Sewing, Flat Seaming Machine, nailing machine, Industrial Sewing Machine, Tunnel for Ironing and Finishing Product, Automatic Folding & Packing Unit, Intelligent Logistic Handling Robot, RFID System….with the best price and quality. We will advise, warranty and maintain on-site. Ensure smooth operation, efficient continuous operation. Please contact us for the best advice.
For more detail please contact us
 HCM: 328 Võ Văn Kiệt, Phường Cô Giang, Qu
ậ
n 1
 Hà Nội: 308 Ngọc Trì, Phường Thạch Bàn, Quận Long Biên.
: 
https://hoshima-int.com
FOREIGNER                                                                                                    VIETNAMESE
: +84 0906.603.813 (Mobile, Zalo, Whatsapp)                                 
: +84 0902.081.884 (Mobile, Zalo, Whatsapp)
WeChat: steve0906603813                                                                  WeChat: jamescosma
: steve.yap@hoshima-int.com                                                       
 : huynhhien.hoangma@hoshima-int.com