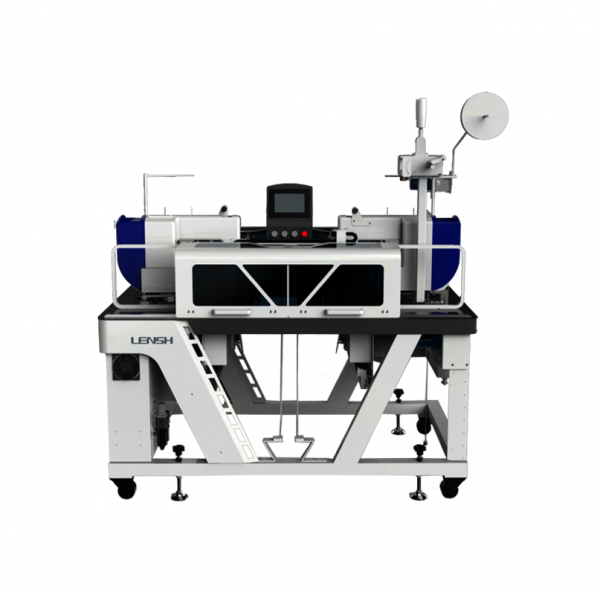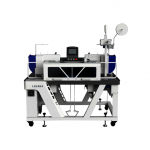 LENSH Intelligent Core End Bartack LS-5011C
Manual work quickly tired and low efficiency
Automated equipment operation, low fatigue, high efficiency
Stabilize output products, reduce faults.
Providing intelligent design for process requirements
Description
Intelligent Core End Bartack
Making bartack on 2 heads of the string is 1 of the most simple process in the PPA Area. This feature is getting used on many famous brands (Nike, Adidas, Uniqlo,.. ) more and more.
Since we want to make cord end bar tack we need at least these step
1. Measuring
2. Cutting
3. Sewing 2 heads of the string.
Usually, it will take around 30s/pcs with 2 operators.
Traditional methods also come with these errors
Cutting points tear apart
Uneven size between to head
The length of finishing products is not equal
Spend too much time on 1 process
If you are facing those PROBLEMS, this is just a perfect solution for you!
INTELLIGENT Intelligent Core End Bartack LENSH LS-5011C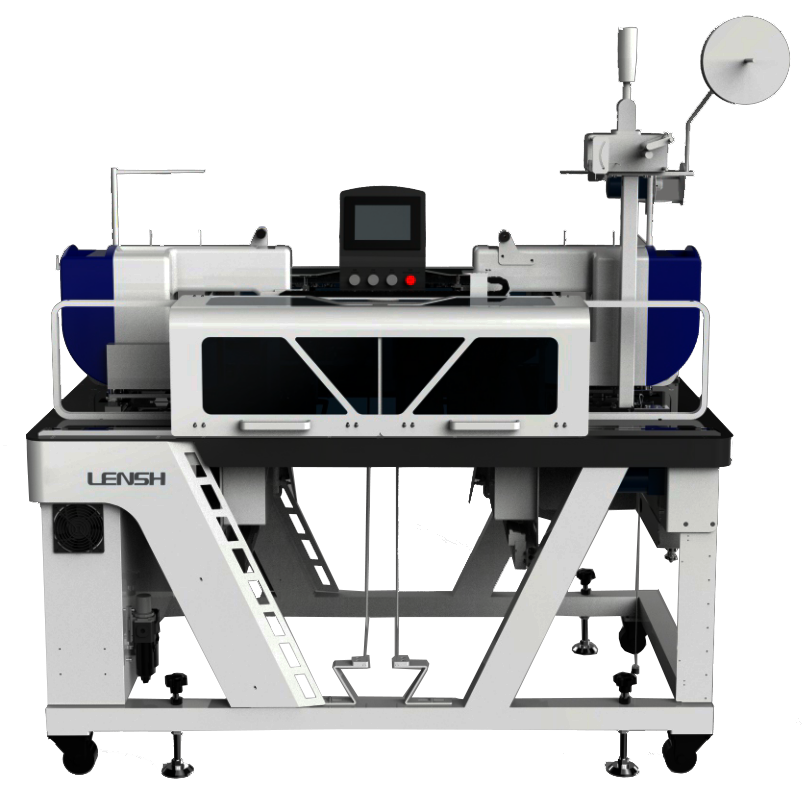 Intelligent Core End Bartack LENSH LS-5011C
Model: Intelligent Core End Bartack LENSH LS-5011C
Intelligent Core End Bartack LENSH LS-5011C specializes in making inner plug heads for string. The reason why we create this model is to support new trends on making string heads of Uniqlo, Adidas, Nike,…
The length of the string is supported more than 65 cm, available width 5~19mm
LS-5011A also support data tracking such as failure rate data, capacity data, usage data, or remote data collection system (optional) which could help manager level easier to manage their work
Technical Parameter
| | |
| --- | --- |
| Technical parameters | |
| Model | LS5011 |
| Voltage | 220V 50~60Hz |
| Air pressure | 0.5~0.6MPa |
| Power | 1.5KW |
| Dimensions | 1720*1030*1800mm |
| Packing size | 1830*1170*1855mm |
| Net weight | 430kg |
| Gross weight | 547kg |
| Heating element power | 0.3KW |
| Temperature setting of heating element | 350℃±10℃ |
INNOVATIVE POINT
FULLY-AUTOMATIC
, nonoperator needed
Finishing product with
EQUAL SIZE
OPTIMIZE
every second to shorten the cycle time only ~8s/pcs
STABILIZE
your production line
Beside that, Hoshima International is the exclusive distributor of automatic machines for the garment industry including: Fabric Inspection System Shelton Vision, Color Inspection Machine, C- tex Fabric Inspection Machine, Relax Machine, Automated Fabric Loader, Automatic Cutter, Automatic Labeling Machine, Automatic Spreader, Intelligent Hanger System, Waist Card Machine, Stitching and pressure line 2in1, Intelligent Mouth Rip Machine, Intelligent Core End Bartack, Intelligent Cap Rope Units, Automatic wash label seaming, Intelligent String Insert Unit, Automatic Template Sewing Machine, Automatic High-Speed Elastic Ring Robot, Automatic Placket Sewing Machine, Tubular Bottom Hemming Integrated Sewing Machine, Electronic Pattern Sewing, Flat Seaming Machine, nailing machine, Industrial Sewing Machine, Tunnel for Ironing and Finishing Product, Automatic Folding & Packing Unit, Intelligent Logistic Handling Robot, RFID System….with the best price and quality. We will advise, warranty and maintain on-site. Ensure smooth operation, efficient continuous operation. Please contact us for the best advice.
For more detail please contact us
 HCM: 328 Võ Văn Kiệt, Phường Cô Giang, Qu
ậ
n 1
 Hà Nội: 308 Ngọc Trì, Phường Thạch Bàn, Quận Long Biên.
: 
https://hoshima-int.com
FOREIGNER                                                                                                    VIETNAMESE
: 0906.603.813 (Mobile, Zalo, Whatsapp)                                 
: 0902.081.884 (Mobile, Zalo, Whatsapp)
WeChat: steve0906603813                                                                  WeChat: jamescosma
: steve.yap@hoshima-int.com                                                       
: huynhhien.hoangma@hoshima-int.com