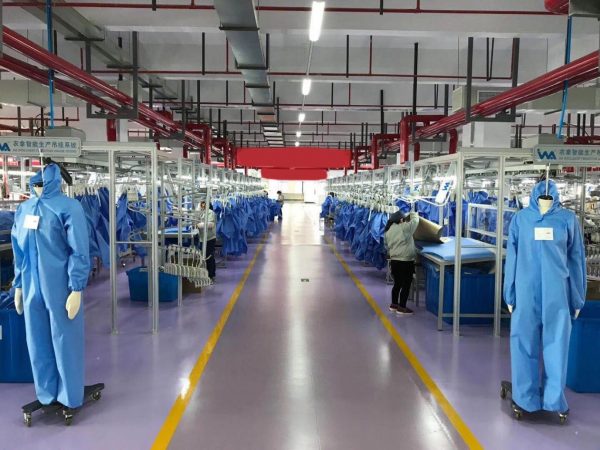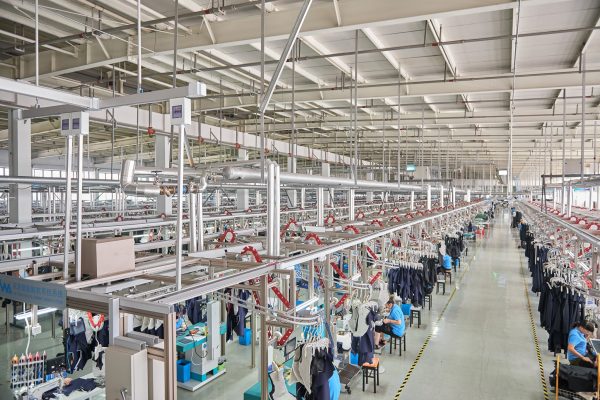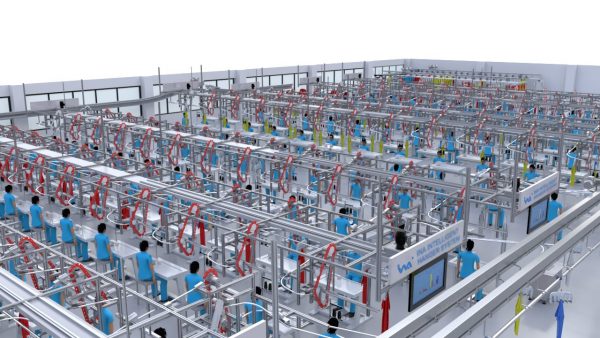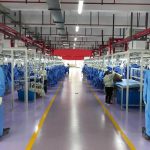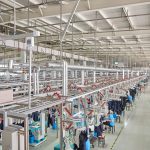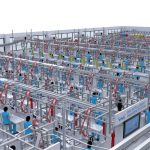 Ina Intelligent Hanger System
TECHNICAL FEATURE
Graphic display of wireless data transmission
Wireless RFID Technology
Automat deliver and sorting
Automatic buffering and sorting
Description
Ina Intelligent Hanger System
The basic concept of the INA intelligent hanger system is to hang the cut pieces of the whole garment on the hanger. According to the operation and work section entered in advance, the system automatically delivers the hanger to the operator of the next operation according to the corresponding production process route, which greatly reduces the time of non-production such as handling, binding, and folding. When the production staff finishes a process, they only need to press the control button, and the hanger system will automatically transfer the hanger to the next operation station. The software of the hanger system will automatically record the production data and relevant product information of the staff and make statistics at the same time.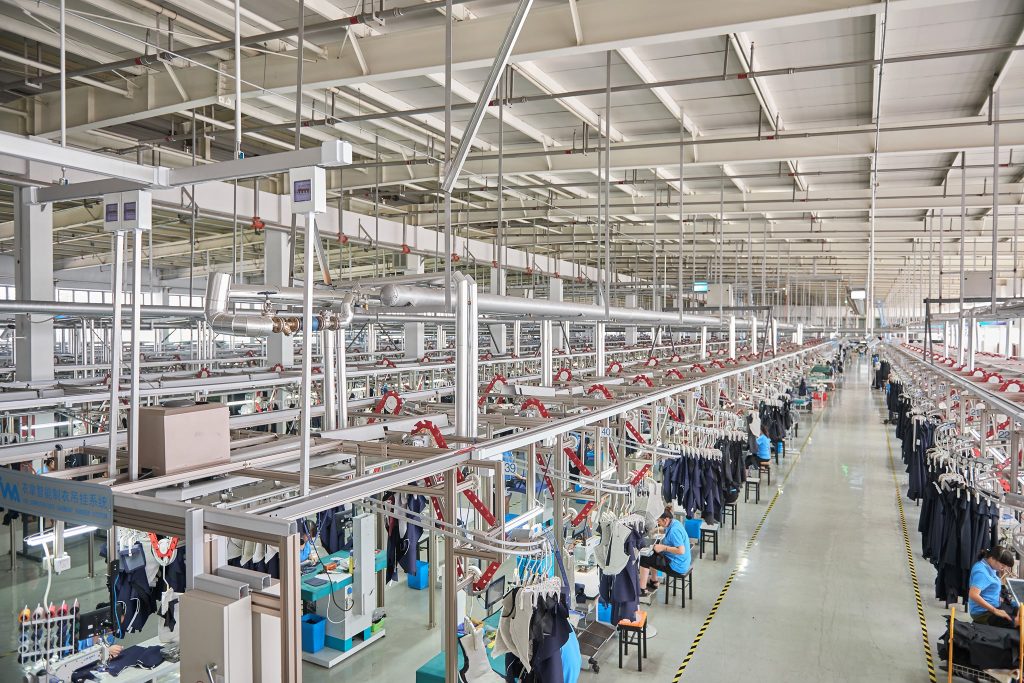 Ina Intelligent Hanger System
INA Intelligent Hanger System is an intelligent clothing production line based on intelligent and digital equipment. It uses a computerized intelligent management system to cooperate with enterprise production data, management software, electronic technology, RFID radio frequency technology, and advanced mechanical transmission technology. The use of a single assembly production mode, can significantly improve the production efficiency of enterprises, the product quality, and the production management level, as well as reduce the labor cost and management cost of enterprises, improve the profitability of enterprises.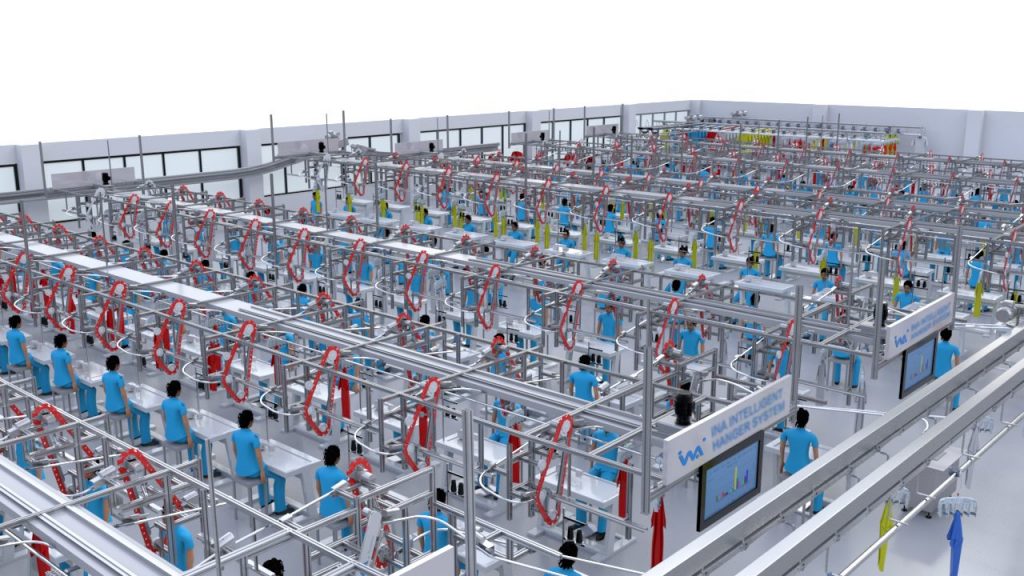 The latest generation of INA intelligent hanger system, together with the IPMS system that independently developed by INA, can realize multi-point delivery, quick grouping, and other functions to reduce the waste of time in station arrangement. Cloud data interconnection is more accurate, which can refresh the information of orders, materials, and processes required for production in real-time so that all departments can control the relevant production data at any time and realize comprehensive information updates. Help enterprises improve the quality of management.
Beside that, Hoshima International is the exclusive distributor of automatic machines for the garment industry including: Fabric Inspection System Shelton Vision, Color Inspection Machine, C- tex Fabric Inspection Machine, Relax Machine, Automated Fabric Loader, Automatic Cutter, Automatic Labeling Machine, Automatic Spreader, Intelligent Hanger System, Waist Card Machine, Stitching and pressure line 2in1, Intelligent Mouth Rip Machine, Intelligent Core End Bartack, Intelligent Cap Rope Units, Automatic wash label seaming, Intelligent String Insert Unit, Automatic Template Sewing Machine, Automatic High-Speed Elastic Ring Robot, Automatic Placket Sewing Machine, Tubular Bottom Hemming Integrated Sewing Machine, Electronic Pattern Sewing, Flat Seaming Machine, nailing machine, Industrial Sewing Machine, Tunnel for Ironing and Finishing Product, Automatic Folding & Packing Unit, Intelligent Logistic Handling Robot, RFID System….with the best price and quality. We will advise, warranty and maintain on-site. Ensure smooth operation, efficient continuous operation. Please contact us for the best advice.
For more detail please contact us
 HCM: 328 Võ Văn Kiệt, Phường Cô Giang, Qu
ậ
n 1
 Hà Nội: 308 Ngọc Trì, Phường Thạch Bàn, Quận Long Biên.
: 
https://hoshima-int.com
FOREIGNER                                                                                                    VIETNAMESE
: 0906.603.813 (Mobile, Zalo, Whatsapp)                                 
: 0902.081.884 (Mobile, Zalo, Whatsapp)
WeChat: steve0906603813                                                                  WeChat: jamescosma
: steve.yap@hoshima-int.com                                                       
: huynhhien.hoangma@hoshima-int.com