What is pre-production processes (PPA processes) in Garment Manufacturing?
26/11/2021
adminmp
What is pre-production processes (PPA processes)?
Pre-production process is planning that is done prior to the bulk garment production. That includes samples development and approvals, sourcing and testing raw materials, garment costing, pattern making and process planning. Efficient production can't be reached without the pre-production processes. Production preparation processes are important for any manufacturing company
Garments manufacturing is all about cutting, sewing and finishing but there is list of complex tasks in pre-production stage as garments production preparatory the process especially on fabrics quality inspection and pre-production sampling, without getting done of these process bulk production cannot be started as these buyer procedure. All fabrics quality procedure and sampling are very much sensitive, garments maker needs to be careful of smooth production and keeping needed input flow to sewing. If a factory cannot perform pre-production activities properly, the factory may fall down in productivity. Generally, it takes at least 12-13 days to go for bulk production after receiving fabrics from the supplier. Production planning team directly follows up on these pre-production activities.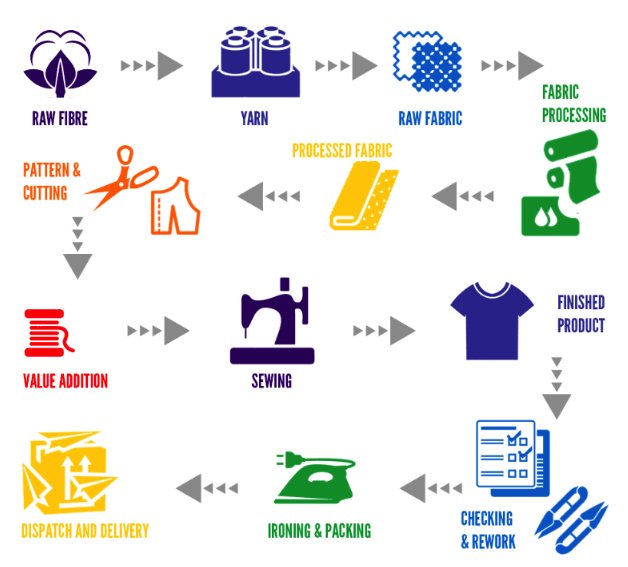 -> Learn more: Functions of Cutting Department in Garment Industry
Pre-Production activities operation Flow chart of Garments Manufacturing
Preparation for the PP Meeting:
1. Inform all departments to prepare for the PP Meeting:
2. Master File.
3. Approved Fabric & Trim Swatch.
4. Fabric & Trim Availability Report.
5. Production Plan.
6. Line Layout & Manpower Allocation.
Size-Set Sample Preparation:
This sample shall be done with the involvement of Line In-Charge, Line Supervisor, Line Q.C, Work-Study Officer, Mechanic and Technical/Sample Room. Shall follow buyer's Sample, Comments and Operational break down prepared by Work-Study officer.
Critical Operation Identification:
During Size-Set Sample/Line Sample development, Production, Quality, IE Staff and Mechanic together shall do this study and identify all critical points at the construction of a garment.
PP Meeting (Internal & Buyer):
To discuss and take necessary Corrective & Preventive Actions before starting production of each style and to make sure every department is updated with the Fabric/Accessory Requirement, Technical Specifications, Testing Requirements, Workmanship, Target, Shipment Details, etc.
To proceed with the pilot cut prior to going for Bulk Cutting.
First Production Analysis:
To compare the Initial Output (Finished Goods) of Pilot Run against Buyers approved Sample/Standard prior to going for Bulk Cutting
Finalizing Pattern for Bulk Cutting:
To verify and make sure to use the correct pattern for the Bulk Cutting.
Approval for Bulk Cutting:
To assure and certify that all Pre-Production activities have been completed prior to starting Bulk Cutting of each style.
Hoshima International is the exclusive distributor of automatic machines for the garment industry including: Fabric Inspection System Shelton Vision, Color Inspection Machine, C- tex Fabric Inspection Machine, Relax Machine, Automated Fabric Loader, Automatic Cutter, Automatic Labeling Machine, Automatic Spreader, Intelligent Hanger System, Waist Card Machine, Stitching and pressure line 2in1, Intelligent Mouth Rip Machine, Intelligent Core End Bartack, Intelligent Cap Rope Units, Automatic wash label seaming, Intelligent String Insert Unit, Automatic Template Sewing Machine, Automatic High-Speed Elastic Ring Robot, Automatic Placket Sewing Machine, Tubular Bottom Hemming Integrated Sewing Machine, Electronic Pattern Sewing, Flat Seaming Machine, nailing machine, Industrial Sewing Machine, Tunnel for Ironing and Finishing Product, Automatic Folding & Packing Unit, Intelligent Logistic Handling Robot, RFID System….with the best price and quality. We will advise, warranty and maintain on-site. Ensure smooth operation, efficient continuous operation. Please contact us for the best advice.
For more detail please contact us
 HCM: 328 Võ Văn Kiệt, Phường Cô Giang, Qu
ậ
n 1
 Hà Nội: 308 Ngọc Trì, Phường Thạch Bàn, Quận Long Biên.
: 
https://hoshima-int.com
FOREIGNER                                                                                                    VIETNAMESE
: 0906.603.813 (Mobile, Zalo, Whatsapp)                                 
: 0902.081.884 (Mobile, Zalo, Whatsapp)
WeChat: steve0906603813                                                                  WeChat: jamescosma
: steve.yap@hoshima-int.com                                                       
 : huynhhien.hoangma@hoshima-int.com