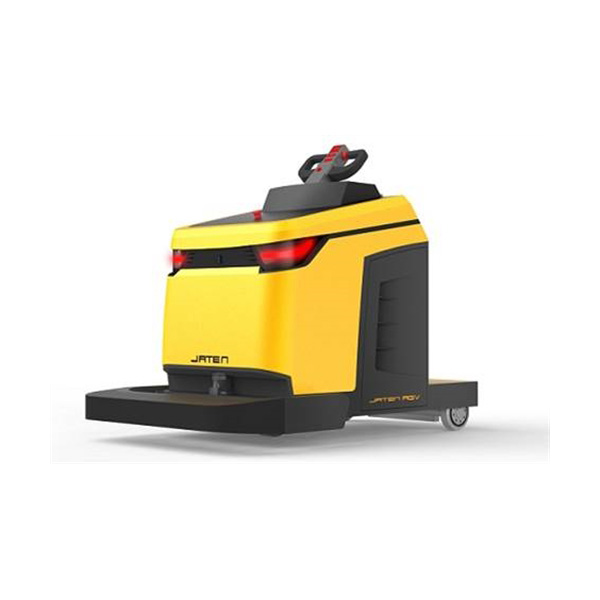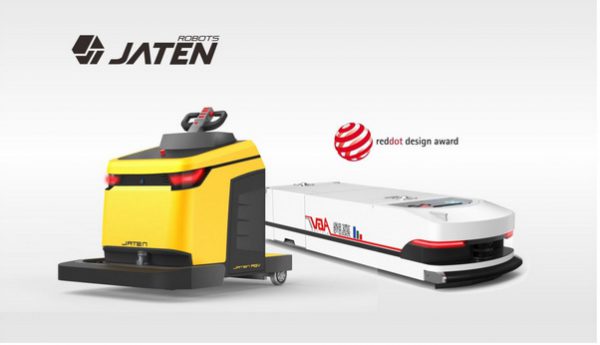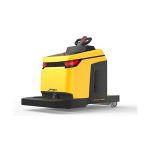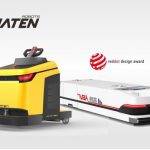 Jaten Inertial (Spot) Navigation AGV
Inertial navigation, a trackless navigation technique developed by Jaten, is using gyroscope and magnetic pin to locate accurately. It can transport 2.5t material IP53 protection design, able to work outdoor for all-weather condition Applied in automobile, appliance and electronics industries in large scale.
Description
Jaten inertial navigation AGV "Bumblebee" and magnetic navigation AGV "White Dolphine" won the Red Dot Design Award, which means forms and function really comes together beautifully and we are proud to be recognized by the jury.
This year has been the tenth year since Jaten began to develop AGV. The award bodes very well for us. We will still devote to developing more and more high-quality porducts, offering reliable intelligent material delivery systems and solving practical problems for customers.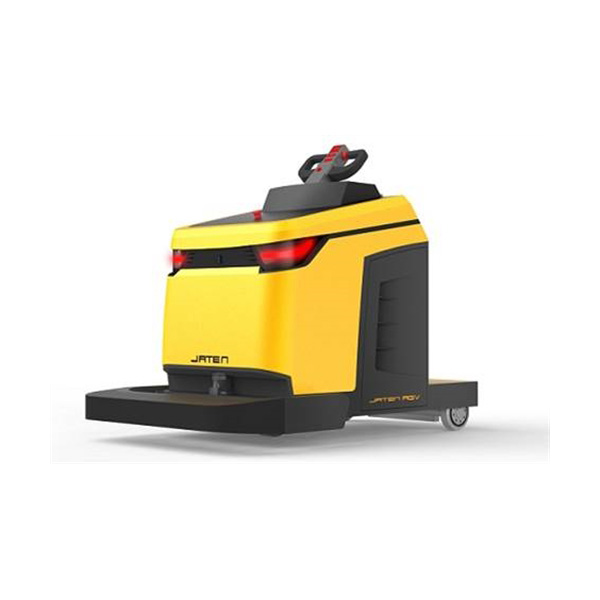 Jaten Inertial (Spot) Navigation AGV
Optical fiber gyro
Outdoor laser obstacle avoidance sensor
High-performance steering wheel motor and driving unit
Wireless serial device server
Dual encoder
IP53 Protection Design
2.5t loading capacity
Successfully applied in Huawei, Comfort Seating, etc.
2015 CHINA CESA 1st Prize
2016 German Red Dot Design Award
2016 Hannover Messe exhibited product
Dimension
L1800×W1080×H1480mm
Type
Towing
Navigation
inertial
Driving  Mode
one-way (automatic or manual)
Rated Load
2500kg
Speed
automatic 10-42m/min;
manual 10-54m/min
Grade Ability
<5°
Turing Radius
≥1200mm
Battery
DC48V, 100AH
Typical Application
Huawei
Beside that, Hoshima International is the exclusive distributor of automatic machines for the garment industry including: Fabric Inspection System Shelton Vision, Color Inspection Machine, C- tex Fabric Inspection Machine, Relax Machine, Automated Fabric Loader, Automatic Cutter, Automatic Labeling Machine, Automatic Spreader, Intelligent Hanger System, Waist Card Machine, Stitching and pressure line 2in1, Intelligent Mouth Rip Machine, Intelligent Core End Bartack, Intelligent Cap Rope Units, Automatic wash label seaming, Intelligent String Insert Unit, Automatic Template Sewing Machine, Automatic High-Speed Elastic Ring Robot, Automatic Placket Sewing Machine, Tubular Bottom Hemming Integrated Sewing Machine, Electronic Pattern Sewing, Flat Seaming Machine, nailing machine, Industrial Sewing Machine, Tunnel for Ironing and Finishing Product, Automatic Folding & Packing Unit, Intelligent Logistic Handling Robot, RFID System….with the best price and quality. We will advise, warranty and maintain on-site. Ensure smooth operation, efficient continuous operation. Please contact us for the best advice.
For more detail please contact us
 HCM: 328 Võ Văn Kiệt, Phường Cô Giang, Qu
ậ
n 1
 Hà Nội: 308 Ngọc Trì, Phường Thạch Bàn, Quận Long Biên.
: 
https://hoshima-int.com
FOREIGNER                                                                                                    VIETNAMESE
: 0906.603.813 (Mobile, Zalo, Whatsapp)                                 
: 0902.081.884 (Mobile, Zalo, Whatsapp)
WeChat: steve0906603813                                                                  WeChat: jamescosma
: steve.yap@hoshima-int.com                                                       
 : huynhhien.hoangma@hoshima-int.com