What is Woven Fabric? What are the Different Types of Woven Fabric?
10/12/2021
adminmp
Fabrics are either knit or woven. These two types differ in almost everything; how they're made, whether they wrinkle, how much they're likely to stretch, and whether they shrink or fray.
Knowing the type of your fabric allows you to care for it properly before and after you've executed an elegant custom-made piece. In this article, you'll know everything about woven fabrics.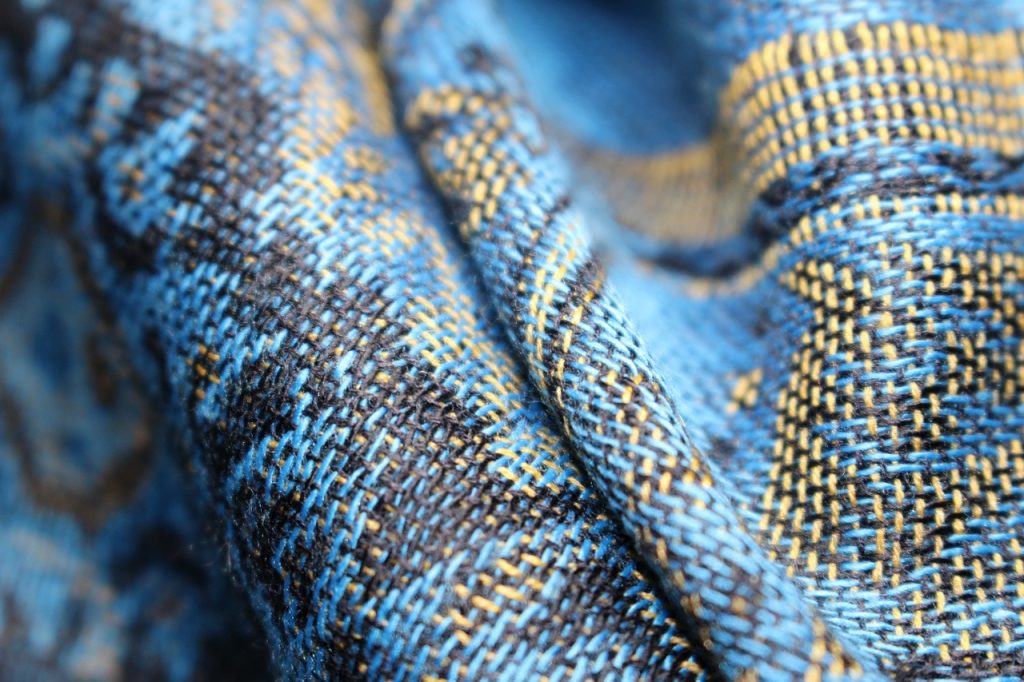 Woven fabrics are stronger and more structurally
What is Woven Fabric?
Weaving, the process of joining individual threads together at right angles to one another has been around for millennia. From basket weaving to loom-weaving, the process of weaving was already known in the Paleolithic era, as early as 27,000 years ago.
In woven fabrics, threads or yarns are placed perpendicular to one another, then attached together through a pattern called "warp" and "weft". This creates fabric. Woven fabrics are produced on a loom. The loom joins two sets of yarns by weaving one set between the other. The two sets of yarns are perpendicular to each other. One set is called the warp and runs the length of the fabric.
Generally, woven fabrics are stronger and more structurally sound than non-woven fabrics. It's why they're used to make many of the items we wear on our skin: the cotton shirt, the silk of a dress, or the wool of a sweater. Woven cloth is flexible but not overly stretchy, so it is able to retain its shape well. Also, woven fabrics are strong making woven cloth well-suited to machine washing and durable use.
There are all kinds of different weave styles that give different types of fabrics as a result. Most of the clothing is made of using three main types of weaves: twill, satin and plain weave. Each style has its own advantages and specific application.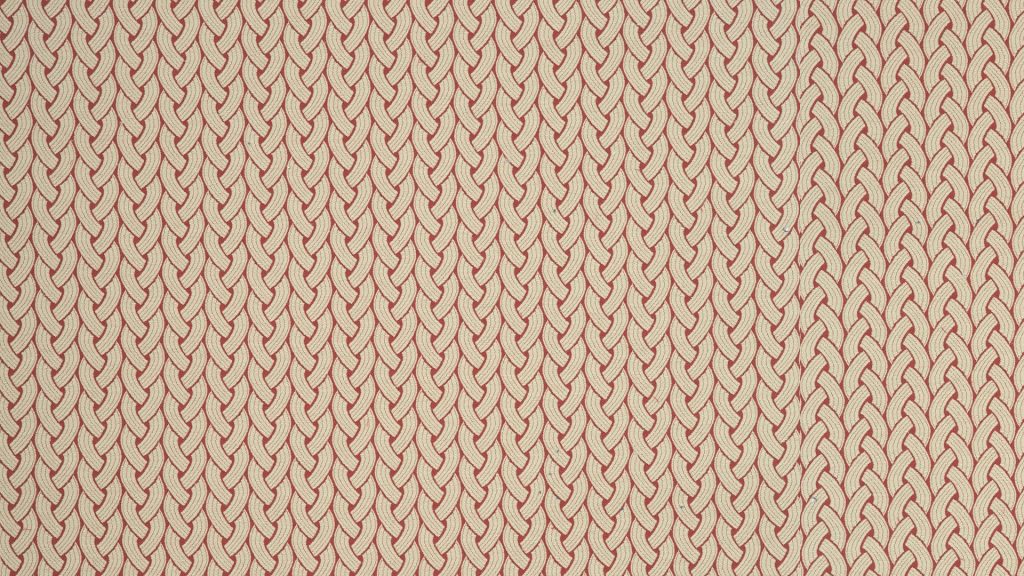 How to identify woven fabric
How to identify woven fabric:
Look: If you feel that the stitches aren't clear enough, you can use a magnifying glass to take a look at the fabric. The fibers, pieces of thread or yarn, are weaved in a crisscross form. The basket-like weave is a distinctive feature of the woven fabric.
Stretch: Woven fabrics don't stretch much. If you pull the fabric really hard, it will stretch a little along its length, but it will hardly stretch along its width. This is one of the features that make woven fabrics quite easy to work with.
Wrinkle: Doing a wrinkle test will help you determine whether your fabric is woven or knit. Take a small piece and ball it up in your fist and press hard. If it creases, then this is probably a woven fabric.
Shrink: Unlike knit fabrics, woven fabric isn't prone to shrinking. However, if you use very hot water, you might experience some shrinking. The only way you can maintain a piece made of woven fabric is to use a material that has already been shrunk in the manufacturing process. The higher the percentage of natural fibers like cotton in your fabric, the more prone to shrinking it will be.
Fray: Woven fabrics unravel easily so they'll fray. As a result, you should finish the fabric with a serger or a zigzag stitch to prevent fraying. This will guarantee that working with your woven fabric will be a lot easier.
What are the Different Types of Woven Fabric?
Here, we'll look into the different types of woven fabric and their qualities. It's essential to consider these qualities when thinking about which woven fabric to choose for curtains or upholstery.

There are many types of woven fabric
Plain Weave Woven Fabric
Plain weave woven fabric is a common option for curtain and upholstery textiles, due to its simple and plain criss-cross weave. It's manufactured to be durable and long-lasting, while various thread strengths can be used to enhance resilience. Striped patterns can also be created within plain weave woven fabric, by altering the colour of the warp textiles.
    2. Twill Woven Fabric
Twill woven fabric is a great choice for upholstery textiles. It's woven differently, as the threads are re-organised to create a diagonal pattern within the fabric. The way twill woven fabric is created makes it a more durable option for upholstery projects.
This Manhattan drape fabric created with a twill weave is ideal for curtains. Its slub qualities add textural curiosity, while concentrated yarns produce a uniform, structured drape.
    3. Satin Woven Fabric
Satin woven fabric is one of the more complicated types of woven fabrics. It has a high lustre effect. The yarns are infused into the weave so that they reflect light, creating a luxurious, shiny appearance. Satin woven fabric is often less durable, so more suited to curtains than upholstery.
The satin woven Elixir fabric by Edmund Bell is exquisitely crafted. Available in 15 alluring colours, the intricate design captures an iridescent sparkle for an interesting interior design development.
    4. Herringbone Weave Woven Fabric
Herringbone weave fabric is easily recognisable by the chevron shapes created within the weave. This adds a noticeable aesthetic touch to the textile, which can have a great impact within any room. It often infuses wool yarns into the weave, making herringbone weave fabric the quintessential cosy upholstery choice.
This Aspen upholstery fabric is sophisticatedly woven with a herringbone structure. Subtle and carefully mixed with various coloured yarns, Aspen is an exemplary herringbone weave upholstery fabric.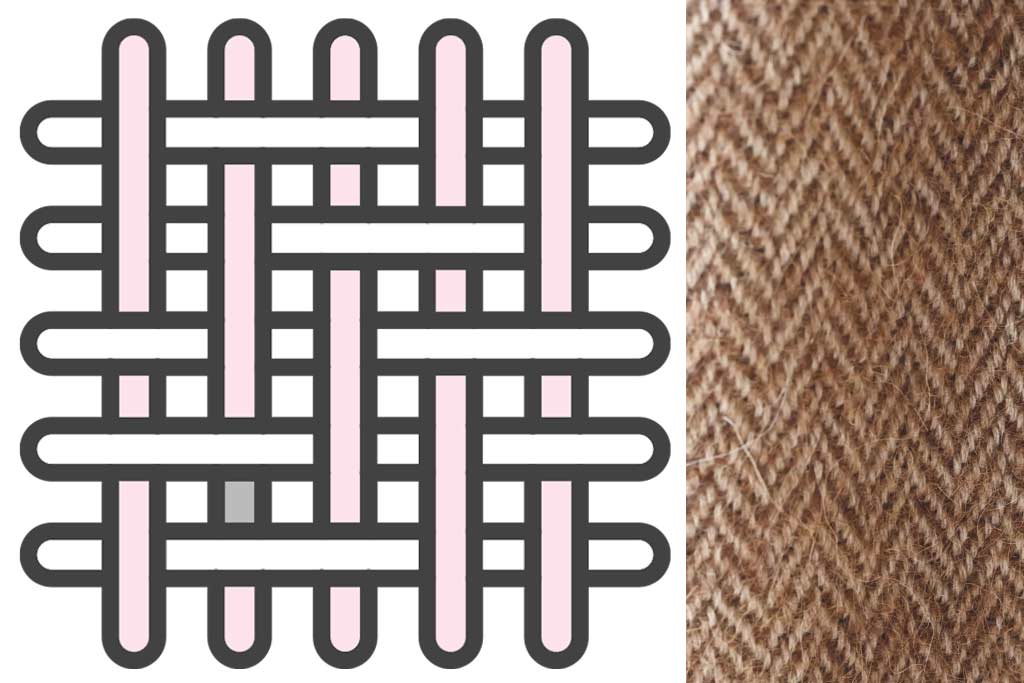 Herringbone Weave Woven Fabric
        5. Pile Weave Woven Fabric
Pile weaves incorporate additional yarns into the weave during the process. They stand up to create a more tactile texture within fabrics, and they are then cut to form a 'nap'. A nap on woven fabrics is the raised surface formed by these additional yarns and threads. One prevalent example of a pile weave woven fabric is velvet.
This Lustre upholstery fabric triumphantly embraces the pile weave, with luxe chenille yarns that evoke a crushed velour look.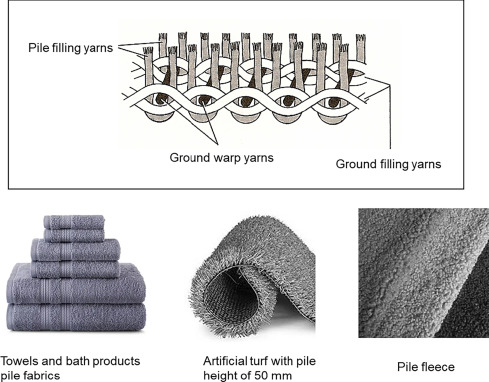 6. Woven Fabric for Curtains
Woven fabrics are the key go-to choice when choosing curtain textiles. This is because woven fabrics have many preferable qualities over other types of fabrics. For example, curtain fabrics need to be durable enough in order to drape well over windows. Knit fabrics are therefore not an option for curtain textiles, as stretchy fabric would drape badly and lose shape over time.
Woven curtain fabrics by Edmund Bell are the definitive choice when it comes to selecting curtain fabrics. With an exquisite range of on trend curtain textiles, their woven curtain fabrics are intriguing and enduring.

Woven fabrics are the key go-to choice when choosing curtain textiles
    7. Woven Fabric for Upholstery
On a similar note, woven fabrics are the most appropriate option when selecting upholstery textiles. Knit fabrics are now used for some purposes, such as easy fit sofa covers. However, when selecting your base upholstery textile, woven fabric is the superior choice. Upholstery textiles need durability, in order to withstand the impact of daily use.
   8. Edmund Bell: Weaving Quality Textiles since 1855
Woven fabrics for upholstery and curtains by Edmund Bell can provide you with all you need to elevate your living or commercial spaces. Weaving quality textiles since 1855, our woven techniques have developed over time. We curate stylish yet extremely durable upholstery and curtain textiles, with a number of safety enhancing qualities.
Beside that, Hoshima International is the exclusive distributor of automatic machines for the garment industry including: Fabric Inspection System Shelton Vision, Color Inspection Machine, C- tex Fabric Inspection Machine, Relax Machine, Automated Fabric Loader, Automatic Cutter, Automatic Labeling Machine, Automatic Spreader, Intelligent Hanger System, Waist Card Machine, Stitching and pressure line 2in1, Intelligent Mouth Rip Machine, Intelligent Core End Bartack, Intelligent Cap Rope Units, Automatic wash label seaming, Intelligent String Insert Unit, Automatic Template Sewing Machine, Automatic High-Speed Elastic Ring Robot, Automatic Placket Sewing Machine, Tubular Bottom Hemming Integrated Sewing Machine, Electronic Pattern Sewing, Flat Seaming Machine, nailing machine, Industrial Sewing Machine, Tunnel for Ironing and Finishing Product, Automatic Folding & Packing Unit, Intelligent Logistic Handling Robot, RFID System….with the best price and quality. We will advise, warranty and maintain on-site. Ensure smooth operation, efficient continuous operation. Please contact us for the best advice.
For more detail please contact us
 HCM: 328 Võ Văn Kiệt, Phường Cô Giang, Qu
ậ
n 1
 Hà Nội: 308 Ngọc Trì, Phường Thạch Bàn, Quận Long Biên.
: 
https://hoshima-int.com
FOREIGNER                                                                                                    VIETNAMESE
: 0906.603.813 (Mobile, Zalo, Whatsapp)                                 
: 0902.081.884 (Mobile, Zalo, Whatsapp)
WeChat: steve0906603813                                                                  WeChat: jamescosma
: steve.yap@hoshima-int.com                                                       
 : huynhhien.hoangma@hoshima-int.com
-> Learn more: