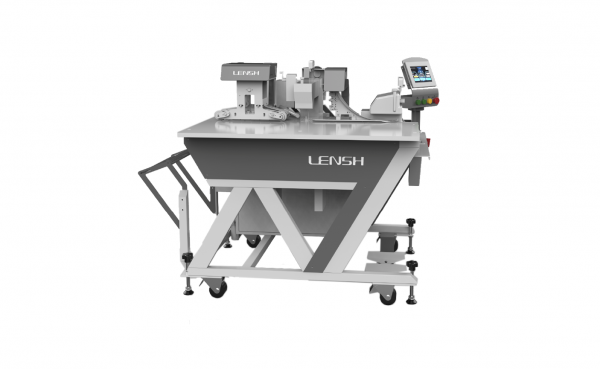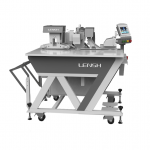 LENSH Stitching and pressure line 2in1 LS-7041A/B
Merging 2 processes into 1
Reduce waiting time and handling time
Save labor (1 operator – 2 processes)
Nonskilled workers required
Stabilize line output
Description
Stitching and pressure line 2in1
Overlock and Overstitch is a very basic and important process that is widely applied in joining 2 cut pieces together.
The standard tradition process breaks down:
Taking cut piece – Overlock 2 pieces – put in the waiting area – Handling to next stage – Taking – 2 pieces join with cover stitch – Cut extra thread – Put in the waiting area
Advantages:
⭐A very popular method, easy to apply
⭐Skilled workers operate very fast
Disadvantages:
❗ Need at least 2 operators to process
❗ Need skilled workers to optimized the speed
❗ Need to balance the time between 2 processes in order not to cause any pausing/waiting time (which is happening in many factories now)
After studying the process and recognize those disadvantages, Stitching and pressure line 2in1 LENSH LS-7041A/B was designed to combine 2 processes into one, creating a smoother workflow process:
Taking – Overlock 2 pieces – Cover stitch & auto cut extra thread – Carry the finishing product to 1 side by auto stacker
Advantages:
⭐Merging 2 processes into 1
⭐Reduce waiting time and handling time
⭐Save labor (1 operator – 2 processes)
⭐Nonskilled workers required
⭐Stabilize line output
Beside that, Hoshima International is the exclusive distributor of automatic machines for the garment industry including: Fabric Inspection System Shelton Vision, Color Inspection Machine, C- tex Fabric Inspection Machine, Relax Machine, Automated Fabric Loader, Automatic Cutter, Automatic Labeling Machine, Automatic Spreader, Intelligent Hanger System, Waist Card Machine, Stitching and pressure line 2in1, Intelligent Mouth Rip Machine, Intelligent Core End Bartack, Intelligent Cap Rope Units, Automatic wash label seaming, Intelligent String Insert Unit, Automatic Template Sewing Machine, Automatic High-Speed Elastic Ring Robot, Automatic Placket Sewing Machine, Tubular Bottom Hemming Integrated Sewing Machine, Electronic Pattern Sewing, Flat Seaming Machine, nailing machine, Industrial Sewing Machine, Tunnel for Ironing and Finishing Product, Automatic Folding & Packing Unit, Intelligent Logistic Handling Robot, RFID System….with the best price and quality. We will advise, warranty and maintain on-site. Ensure smooth operation, efficient continuous operation. Please contact us for the best advice.
For more detail please contact us
 HCM: 328 Võ Văn Kiệt, Phường Cô Giang, Qu
ậ
n 1
 Hà Nội: 308 Ngọc Trì, Phường Thạch Bàn, Quận Long Biên.
: 
https://hoshima-int.com
FOREIGNER                                                                                                    VIETNAMESE
: 0906.603.813 (Mobile, Zalo, Whatsapp)                                 
: 0902.081.884 (Mobile, Zalo, Whatsapp)
WeChat: steve0906603813                                                                  WeChat: jamescosma
: steve.yap@hoshima-int.com                                                       
: huynhhien.hoangma@hoshima-int.com