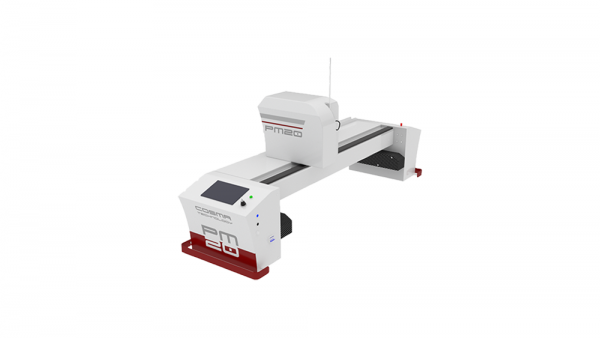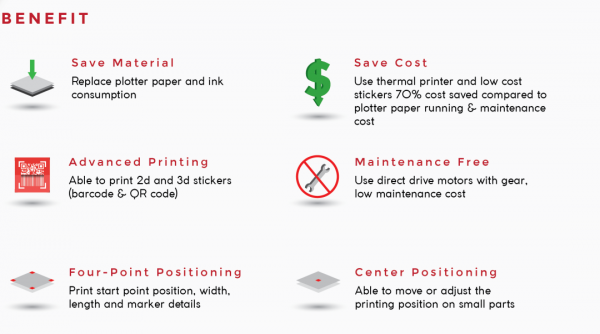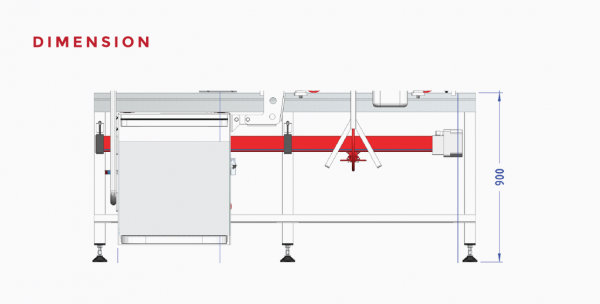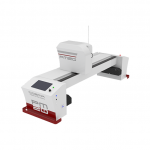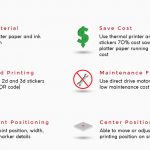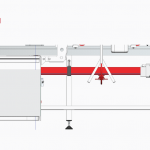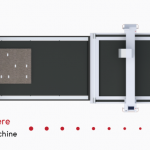 Cosma Automatic Labeling Machine
Technical Feature
Standard width: 180,200 or 220 cm
Lay height: 20 cm
Installed Power: 1.5 KW
Maximum speed: 3s/label
Voltage: 220V 1PH-50/60 Hz
Compressed air: 150L/ min 7 Bar
Description
Cosma Automatic Labeling Machine Postmaster 20
Cosma POSTMASTER 20 is the automatic labeling system that optimizes and boosts the performances of the whole cutting line by providing origin point, width check, length check, and alignment before the cutting process.
POSTMASTER 20 is a user-friendly and ecological tool that removes the marker paper on the top layer, saving ink cartridges consumption and paper cost without increasing the cutting and process timing.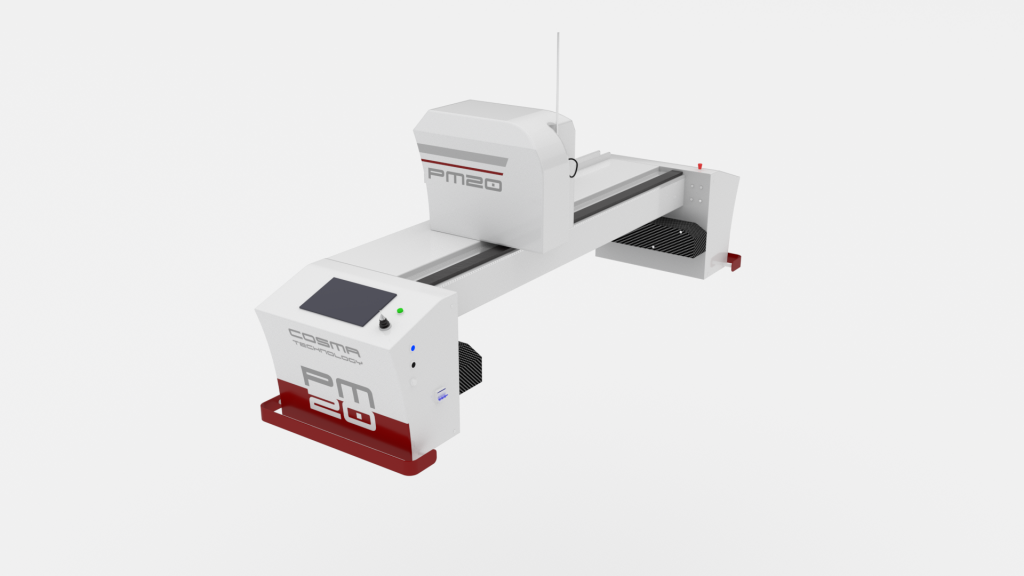 Cosma Automatic Labeling Machine
Benefit
Cosma POSTMASTER 20 brings you certain benefits that you could not even imagine.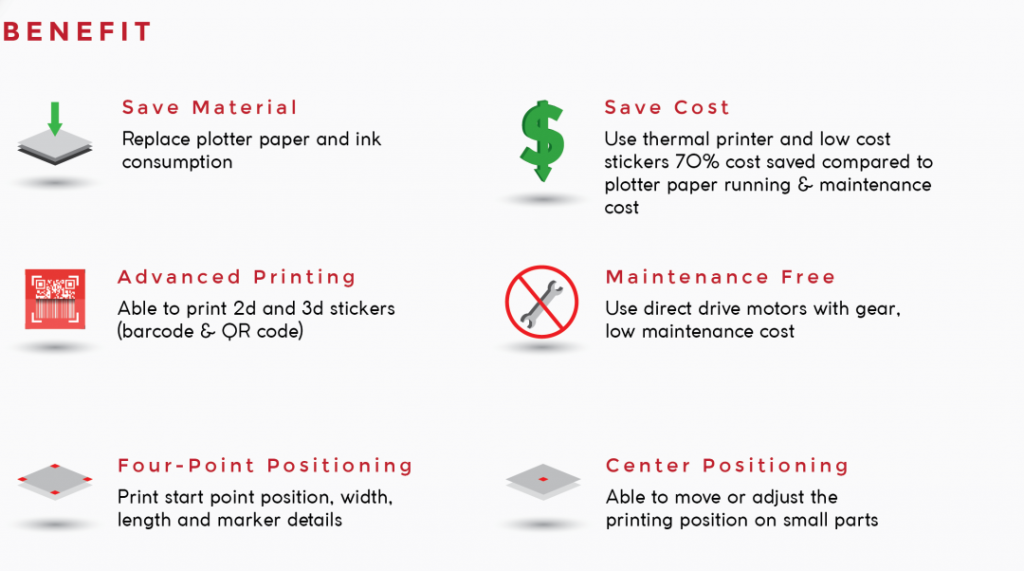 With Cosma POSTMASTER 20, you are not only saving your plotter paper, printing ink, time, and expense but also save more trees and the environment which is a sustainable growing target for humanity.

Beside that, Hoshima International is the exclusive distributor of automatic machines for the garment industry including: Fabric Inspection System Shelton Vision, Color Inspection Machine, C- tex Fabric Inspection Machine, Relax Machine, Automated Fabric Loader, Automatic Cutter, Automatic Labeling Machine, Automatic Spreader, Intelligent Hanger System, Waist Card Machine, Stitching and pressure line 2in1, Intelligent Mouth Rip Machine, Intelligent Core End Bartack, Intelligent Cap Rope Units, Automatic wash label seaming, Intelligent String Insert Unit, Automatic Template Sewing Machine, Automatic High-Speed Elastic Ring Robot, Automatic Placket Sewing Machine, Tubular Bottom Hemming Integrated Sewing Machine, Electronic Pattern Sewing, Flat Seaming Machine, nailing machine, Industrial Sewing Machine, Tunnel for Ironing and Finishing Product, Automatic Folding & Packing Unit, Intelligent Logistic Handling Robot, RFID System….with the best price and quality. We will advise, warranty and maintain on-site. Ensure smooth operation, efficient continuous operation. Please contact us for the best advice.
For more detail please contact us
 HCM: 328 Võ Văn Kiệt, Phường Cô Giang, Qu
ậ
n 1
 Hà Nội: 308 Ngọc Trì, Phường Thạch Bàn, Quận Long Biên.
: 
https://hoshima-int.com
FOREIGNER                                                                                                    VIETNAMESE
: 0906.603.813 (Mobile, Zalo, Whatsapp)                                 
: 0902.081.884 (Mobile, Zalo, Whatsapp)
WeChat: steve0906603813                                                                  WeChat: jamescosma
: steve.yap@hoshima-int.com                                                       
: huynhhien.hoangma@hoshima-int.com