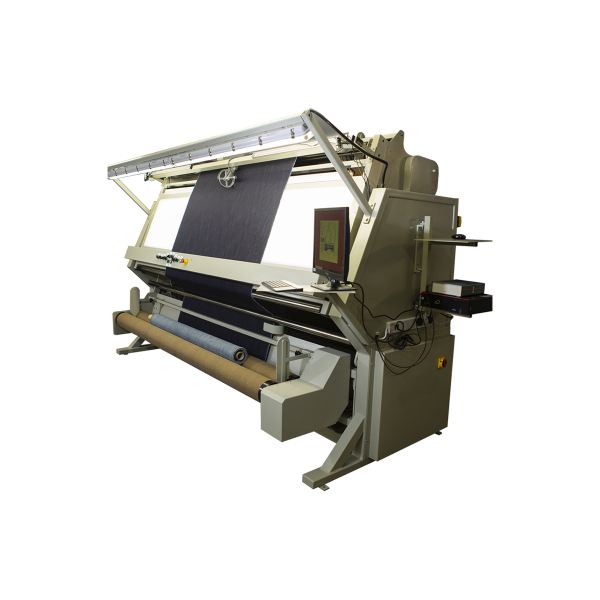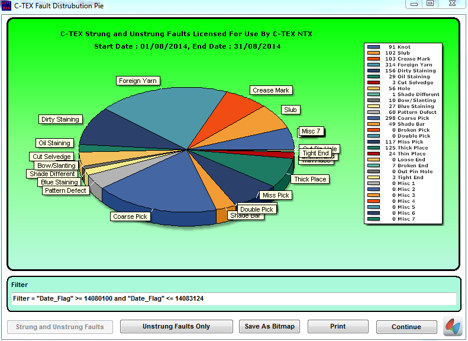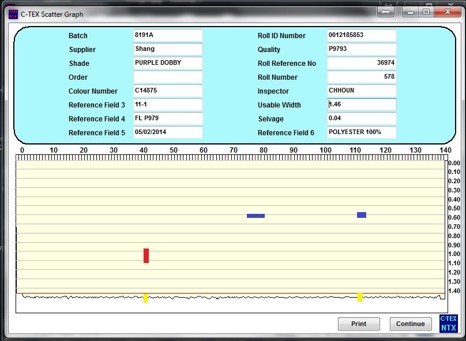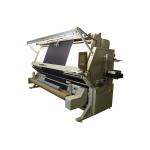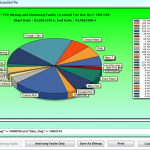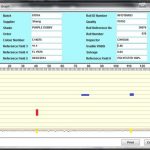 C-tex Fabric Inspection Machine
TECHNICAL FEATURE
Origin UK
Length and Width measurement to reclaim lost fabric and plan production.
Automated generation of quality reports and supplier claims.
Easy creation of fault discount tables.
Quality grading to compare suppliers
Description
C-tex Fabric Inspection Machine
Do you have a dark and lonely corner in your factory where you inspect incoming rolled goods?
Have you ever wondered exactly what the purpose of the process is and how it helps the business?
If you really do give it some thought you will realize you can get an awful lot more value out of that dark corner not only to have more productive data for your textile process or textile supplier but also to create great data to plan your cutting room production. We can retrofit our length and width measurement together with our full software suite onto your existing inspection frames or, if you need best-in-class inspection frame hardware then you will want to find out more about the c-tex fabric inspection machine.
Our c-tex retrofit kit is called the c-tex master which includes length and width measurement and our full software suite for fault input and data analysis.
Our machine is called the C-tex Fabric Inspection Machine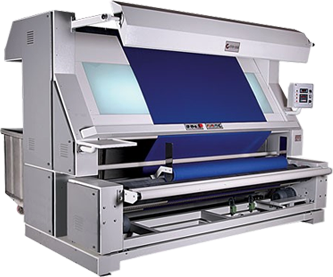 C-tex Fabric Inspection Machine
C-TEX measuring and analysis capability to any make or model of inspection equipment improve materials utilization, reduce waste and ensure you get the best fabric from your supplier.
Materials utilization improvement and waste reduction
Width measurement for usable width data and production planning.
Improve your material utilization by managing your production using data of actual fabric in stock.
Fault mapping for production planning
Flexible report capability to give you practical management of data.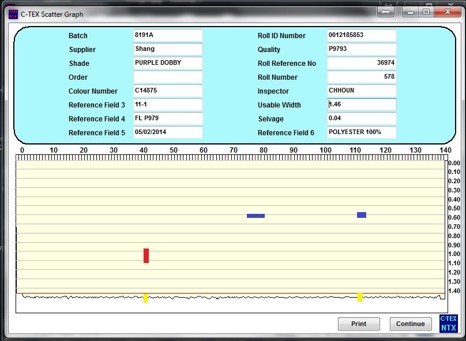 Get the best from your supplier
Length and Width measurement to reclaim lost fabric and plan production.
Automated generation of quality reports and supplier claims.
Easy creation of fault discount tables.
Quality grading to compare suppliers.
Other features
Operator performance monitoring.
Change between languages for easy operator use, automated supplier reports, and access for central purchasing and analysis.
Link with corporate management software (ERP, SAP,…).
Link data from multiple machines and factories.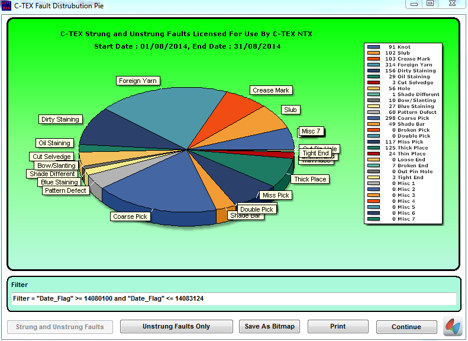 Beside that, Hoshima International is the exclusive distributor of automatic machines for the garment industry including: Fabric Inspection System Shelton Vision, Color Inspection Machine, C- tex Fabric Inspection Machine, Relax Machine, Automated Fabric Loader, Automatic Cutter, Automatic Labeling Machine, Automatic Spreader, Intelligent Hanger System, Waist Card Machine, Stitching and pressure line 2in1, Intelligent Mouth Rip Machine, Intelligent Core End Bartack, Intelligent Cap Rope Units, Automatic wash label seaming, Intelligent String Insert Unit, Automatic Template Sewing Machine, Automatic High-Speed Elastic Ring Robot, Automatic Placket Sewing Machine, Tubular Bottom Hemming Integrated Sewing Machine, Electronic Pattern Sewing, Flat Seaming Machine, nailing machine, Industrial Sewing Machine, Tunnel for Ironing and Finishing Product, Automatic Folding & Packing Unit, Intelligent Logistic Handling Robot, RFID System….with the best price and quality. We will advise, warranty and maintain on-site. Ensure smooth operation, efficient continuous operation. Please contact us for the best advice.
For more detail please contact us
 HCM: 328 Võ Văn Kiệt, Phường Cô Giang, Qu
ậ
n 1
 Hà Nội: 308 Ngọc Trì, Phường Thạch Bàn, Quận Long Biên.
: 
https://hoshima-int.com
FOREIGNER                                                                                                    VIETNAMESE
: 0906.603.813 (Mobile, Zalo, Whatsapp)                                 
: 0902.081.884 (Mobile, Zalo, Whatsapp)
WeChat: steve0906603813                                                                  WeChat: jamescosma
: steve.yap@hoshima-int.com                                                       
: huynhhien.hoangma@hoshima-int.com