What is cutting room in apparel industry?
15/12/2021
adminmp
In a garment manufacturing factory, the cutting room is a section or department where the fabric cutting process is performed. For making readymade garments, garment components or parts are cut from the textile fabrics using industrial equipment. In mass production, a garment factory needs to cut thousands of garments every day.
Garment production starts with the cutting process. In this process, the fabric is being cut into components (shapes or patterns of different garment parts, i.e. front, back, sleeve, collar shapes etc.).
In mass production, multiple layers of fabrics are laid on a table and many garments are being cut at a time. The laid fabric stack is called as lay. The cutting process includes a number of sub-processes and the flow of the processes is as follows. Each process is briefly explained in this article.
-> Learn more: What is pre-production processes (PPA processes) in Garment Manufacturing?
1. PATTERN MAKING / MARKER MAKING:
According to the design and fit, patterns of different garment parts are made on the pattern paper and cut into pattern pieces. For manual marker, these pattern pieces are used for marker making. On the other hand, in the CAD system patterns are made in the computer. Later using a plotter marker are made on the sheet. In the second case the cutting department receive ready marker.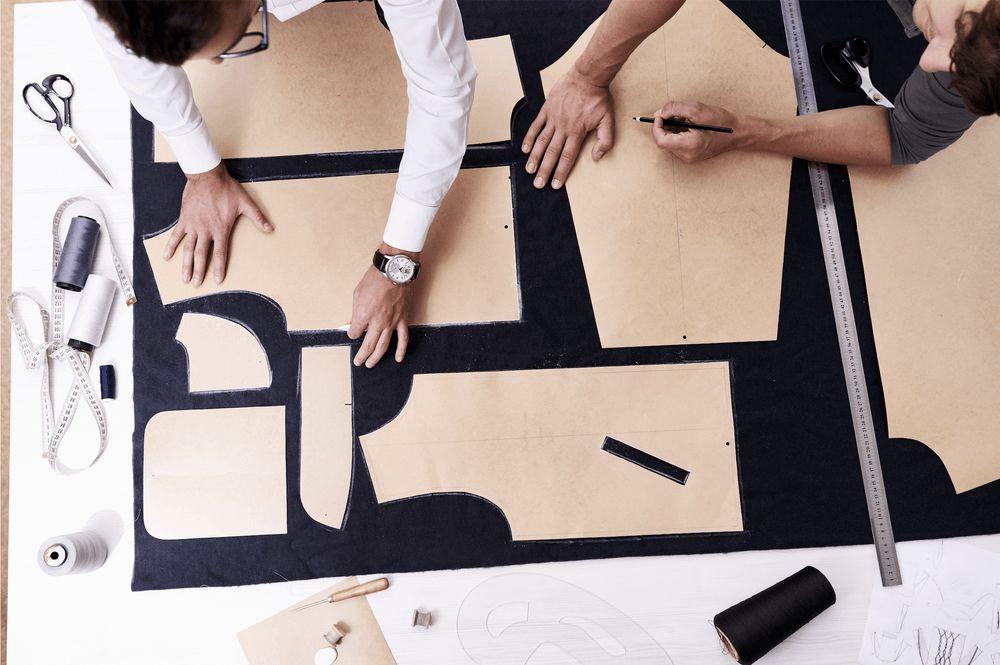 Nowadays, marker making is made by computer software, which saves more time and costs
2. CUT RATIO RECEIVING:
Prior to cutting, cutting department get a job sheet from planning department or merchandiser or production manager that includes total quantity of garment pieces to be cut, sizes ratio of the garments and color wise size break up. According to the size and color ratio, cutting team prepares one marker or multiple markers. Marker length and number of lay to be cut are planned in this stage.
3. FABRIC RECEIVING:
fabric requirement for an order is calculated according to the average consumption of the fabric from the marker. In case of multiple color order, color wise requirement is made. Fabric department issue fabric to cutting against the fabric requirement (generally requisition slip is used).
4. FABRIC RELAXATION:
This process is optional. Specially used for knits fabric. During rolling of fabric, it gets stretched. Therefore, it is essential to bring the fabric on stable form otherwise garment would shrink after making. To relax the fabric, roll or thān is opened and spread and kept for about 24 hours.
5. SPREADING (FABRIC LAYERING):
In this stage fabric sheet is layered one above another maintaining pre-defined maker length and correct ply tension. Fabric is layered up to a certain height to avoid cutting quality problem.
Spreading is done by manual layering or automatic layering machine can be used. During layering of the fabric, fabric edge is aligned at one side.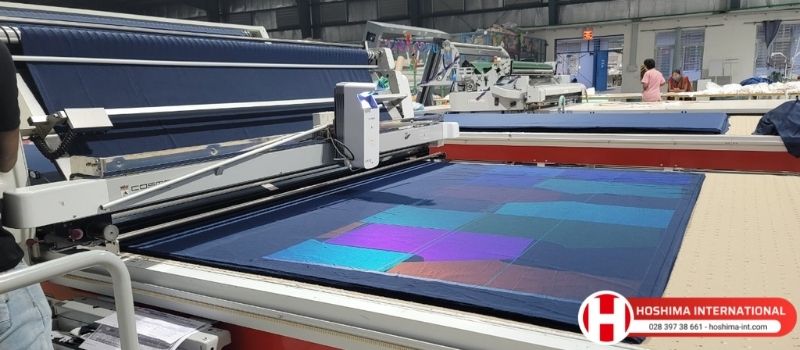 Smart automatic fabric spreading machine saves time and reduces fabric costs
6. MARKER MAKING:
After layering of a lay, pre-made paper patterns (or ready markers made by plotter) are placed on the top layer of the lay. In manual marker making, marking is done around each pattern shape using marking chalk. This process is called as marker making. In a marker all garment components are placed.
7. CUTTING:
Lay is cut following the marked lines on the top of the lay. Cutting is done using straight knife or other cutting means. In cutting process, garment components are separated. Based on pattern shape different cutting method/machine are selected.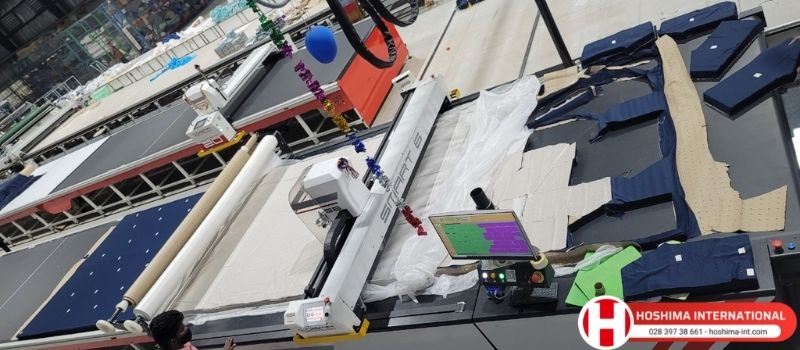 Latest automatic fabric cutting machine Cosma Technology fast speed, reasonable price, high accuracy
8. NUMBERING:
Separated garment components are numbered to ensure that in stitching, all components from the same layer are stitched together. It is important to avoid shade variation in a garment. Between the cutting and sewing processes cut components may be passed through other processes like printing and embroidery. There is maximum chance of mixing of the components. If there is layer number in each component, then at the time of stitching only correct components will be stitched together.
9. SORTING:
According to the production system (make through, progressive bundle or one-piece flow system) cut components are sorted. In sorting all component of a garment placed together. Size-wise sorting and in case multiple colors are cut in a single lay, color wise sorting will be required.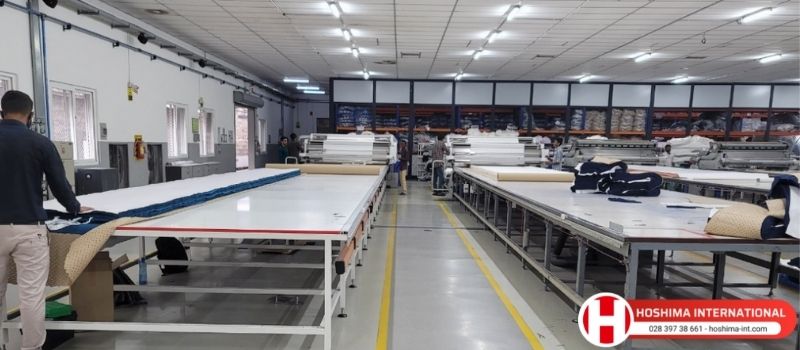 10. BUNDLING:
As per the production line requirement, a certain number of pieces with all component are tied together. This process is known as bundling. Each bundle is marked with bundle number, style name, size number and quantity of pieces in that bundle. At this stage, cutting are ready to send to a production line for stitching.
Fabric is a costly item compared to other materials used for making garments. So, to avoid wastage of fabrics, the cutting room takes preventive actions in marker planning, marker making, and accurate cutting.
The cutting room in apparel industry is set up with long and wide cutting tables, cutting equipment, spreading machines, racks for fabric storing, tables for handling cut parts (sorting, bundling, and ply numbering activities). To know more about the cutting room, read Functions of Cutting Department.
Beside that, Hoshima International is the exclusive distributor of automatic machines for the garment industry including: Fabric Inspection System Shelton Vision, Color Inspection Machine, C- tex Fabric Inspection Machine, Relax Machine, Automated Fabric Loader, Automatic Cutter, Automatic Labeling Machine, Automatic Spreader, Intelligent Hanger System, Waist Card Machine, Stitching and pressure line 2in1, Intelligent Mouth Rip Machine, Intelligent Core End Bartack, Intelligent Cap Rope Units, Automatic wash label seaming, Intelligent String Insert Unit, Automatic Template Sewing Machine, Automatic High-Speed Elastic Ring Robot, Automatic Placket Sewing Machine, Tubular Bottom Hemming Integrated Sewing Machine, Electronic Pattern Sewing, Flat Seaming Machine, nailing machine, Industrial Sewing Machine, Tunnel for Ironing and Finishing Product, Automatic Folding & Packing Unit, Intelligent Logistic Handling Robot, RFID System….with the best price and quality. We will advise, warranty and maintain on-site. Ensure smooth operation, efficient continuous operation. Please contact us for the best advice.
For more detail please contact us
 HCM: 328 Võ Văn Kiệt, Phường Cô Giang, Qu
ậ
n 1
 Hà Nội: 308 Ngọc Trì, Phường Thạch Bàn, Quận Long Biên.
: 
https://hoshima-int.com
FOREIGNER                                                                                                    VIETNAMESE
: 0906.603.813 (Mobile, Zalo, Whatsapp)                                 
: 0902.081.884 (Mobile, Zalo, Whatsapp)
WeChat: steve0906603813                                                                  WeChat: jamescosma
: steve.yap@hoshima-int.com                                                       
 : huynhhien.hoangma@hoshima-int.com